Drill Rod Specifications
Product

Top Hammer Rock Drilling Tool - Drill Rod

Other Names

top hammer drill rod, threaded drill rod, rock drill rod, mining drill rod, thread rock drill rod

Material

Structural Alloy Steel

Application

Tunnelling, Mining, Quarrying, Blasting and Infrastructure Construction




Facedrilling and Bolting, Bench Drilling, Production drilling, Long hole drilling, Drifting

Thread

R22, R25, R28, R32, R35, R38, T38, T45, T51, GT60, ST58, ST68, etc.

Rod Type

MM rod (Male/Female thread): Extension rod, Drifter rod




MF rod (Male/Male thread): Speedrod, MF drifter rod




Drill tube, Guide tube

Body Type

Hexagonal drill rod, Round drill rod

Diameter

20mm~87mm

Length

260mm~6400mm

Custom Design

Acceptable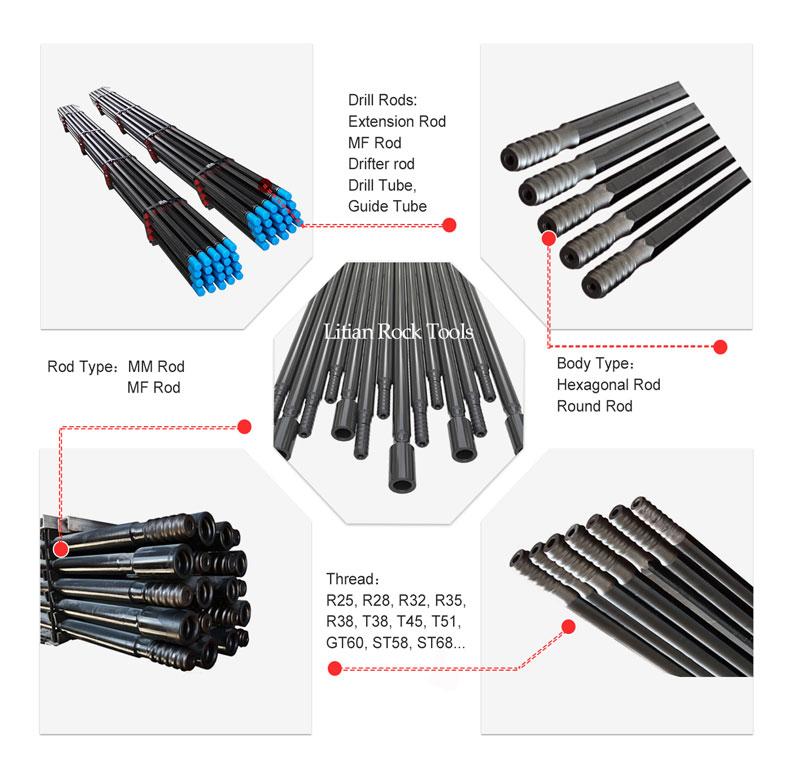 Drill Rod Advantages
High quality steel
Our drill rods are made of high-quality alloy steel, which perfectly balances the wear resistance and flexibility through a special heat treatment process, can meet the requirements of hard rock drilling, and has a longer service life.
Advanced manufacturing technology
Our drill rods adopt a complete set of mature technology such as advanced surface treatment technology, smelting technology, and mechanical processing technology, which greatly reduces the loss of energy in transmission and makes the drilling speed very fast. We have advanced thread manufacturing technology, which can effectively reduce the risk of indentation and fracture at the thread end, making it easier to connect and disassemble drill rods, drill bits and shank adapters, resulting in shorter downtime, straighter drilling holes and higher production efficiency. The escrape groove in the transition area between the thread and the rod body is the weakest area of the drill rod, where the drill rod section is the smallest, not only to bear the high-frequency tensile and compressive normal stress, high torsional stress, but also to withstand the additional bending stress caused by the weight of the drill rod and the rock drilling operations. In drilling practice, Litian continuously optimizes the processing technology of the escrape groove, and has our own unique processing technology, which has minimized the risk of breakage at the escrape groove.
Strict quality control
We strictly control all aspects of production to ensure that high-quality drill rods are presented to customers.
What Is Drill Rod Made Of?
Litian top hammer drill rod is made of high-quality alloy structure hollow rock drill steel (high chromium-molybdenum-nickel alloy steel) as raw material, its proof strength Rp0.2 is 900MPa-1000MPa, tensile strength Rm is 1250MPa-1350MPa, and hardness is 37-44 HRC. Our drill rods have the advantages of high wear resistance, high fatigue strength, high toughness, and long service life.
What Is Drill Rod Used For?
Litian top hammer drill rod is used for rock drilling operations, and is widely used in production drilling, face drilling, bolting, bench drilling, drifting, long-hole drilling in the field of mining, tunneling, quarrying, and construction.
Drill Rod Production Process