Retrac Button Bit Specification
Appearance
Diameter
Buttons
Flushing Hole
Weight
Model No.



[mm]

[in]
Gauge
[No.] × [mm]
Front
[No.] × [mm]
Side
[No.]
Front
[No.]

[kg]


41
1 5/8"
5 × 9
2 × 8
2
1
0.78
R25-417YFP
45
1 3/4"
6 × 9
3 × 8
1
3
1
R25-459YFP
48
1 7/8"
6 × 10
3 × 9
1
3
1.1
R25-489YFP
51
2"
6 × 10
3 × 9
-
3
1.35
R25-519YFP
55
2 11/64"
6 × 11
3 × 9
1
3
1.54
R25-559YFP
57
2 1/4"
6 × 10
3 × 10
-
3
1.6
R25-579YFP
64
2 1/2"
8 × 11
4 × 10
1
2
2.2
R25-6412YFP
Appearance
Diameter
Buttons
Flushing Hole
Weight
Model No.



[mm]

[in]
Gauge
[No.] × [mm]
Front
[No.] × [mm]
Side
[No.]
Front
[No.]

[kg]


45
1 3/4"
6 × 9
3 × 8
1
3
1
R28-459YFP
51
2"
6 × 10
3 × 9
1
3
1.35
R28-519YFP
Appearance
Diameter
Buttons
Flushing Hole
Weight
Model No.



[mm]

[in]
Gauge
[No.] × [mm]
Front
[No.] × [mm]
Side
[No.]
Front
[No.]

[kg]


45
1 3/4"
6 × 9
3 × 8
1
3
0.9
R32-459YFP
48
1 7/8"
6 × 10
3 × 9
1
3
1.1
R32-489YFP
51
2"
6 × 10
3 × 9
-
3
1.2
R32-519YFP
57
2 1/4"
6 × 10
3 × 10
-
3
1.7
R32-579YFP
64
2 1/2"
6 × 11
3 × 10
1
2
2.2
R32-649YFP


















60
2 23/64"
8 × 10
4 × 9
1
2
1.7
R32-6012YFP
64
2 1/2"
8 × 10
4 × 10
2
2
1.9
R32-6412YFP
76
3"
8 × 12
4 × 11
2
2
2.2
R32-7612YFP


















76
3"
8 × 11
4 × 11, 1 × 11
-
4
3.3
R32-7613YFA
Appearance
Diameter
Buttons
Flushing Hole
Weight
Model No.



[mm]

[in]
Gauge
[No.] × [mm]
Front
[No.] × [mm]
Side
[No.]
Front
[No.]

[kg]


51
2"
8 × 9
3 × 9
2
1
1.6
SR35-5111YFP
54
2 1/8"
8 × 9
3 × 9
2
1
1.8
SR35-5411YFP


















54
2 1/8"
6 × 10
3 × 9
1
3
1.3
SR35-549YFA
Appearance
Diameter
Buttons
Flushing Hole
Weight
Model No.



[mm]

[in]
Gauge
[No.] × [mm]
Front
[No.] × [mm]
Side
[No.]
Front
[No.]

[kg]


64
2 1/2"
8 × 10
4 × 10
2
2
1.9
R38-6412YFP
76
3"
8 × 12
4 × 11
2
2
2.2
R38-7612YFP
64
2 1/2"
6 × 11
3 × 10
1
2
1.9
R38-649YFP
64
2 1/2"
6 × 11
3 × 10, 1 × 9
1
2
1.9
R38-6410YFA
66
2 19/32″
6 × 11
3 × 10, 1 × 9
1
2
1.9
R38-6610YFA


















64
2 1/2"
8 × 10
4 × 10, 1 × 9
1
4
1.9
R38-6413YFA
70
2 3/4"
8 × 10
4 × 10, 1 × 9
1
4
2.4
R38-7013YFA
76
3"
8 × 11
4 × 11, 1 × 11
-
4
3.3
R38-7613YFA
89
3 1/2"
8 × 12
4 × 12, 2 × 10
1
4
5.3
R38-8914YFA
89
3 1/2"
8 × 12
4 × 11, 1 × 11
1
4
5.3
R38-8913YFA
Appearance
Diameter
Buttons
Flushing Hole
Weight
Model No.



[mm]

[in]
Gauge
[No.] × [mm]
Front
[No.] × [mm]
Side
[No.]
Front
[No.]

[kg]


64
2 1/2"
8 × 10
4 × 10
2
2
1.9
T38-6412YFP
76
3"
8 × 12
4 × 11
2
2
2.2
T38-7612YFP
64
2 1/2"
6 × 11
3 × 10
1
2
1.9
T38-649YFP


















64
2 1/2"
6 × 11
3 × 10, 1 × 9
1
2
1.9
T38-6410YFA
64
2 1/2"
8 × 10
4 × 10, 1 × 9
1
4
1.9
T38-6413YFA
70
2 3/4"
8 × 10
4 × 10, 1 × 9
1
4
2.4
T38-7013YFA


















65
2 9/16"
6 × 12
4 × 10
1
2
3.1
T38-6510YLP
Appearance
Diameter
Buttons
Flushing Hole
Weight
Model No.



[mm]

[in]
Gauge
[No.] × [mm]
Front
[No.] × [mm]
Side
[No.]
Front
[No.]

[kg]


76
3"
8 × 12
4 × 11
2
2
2.2
T45-7612YFP
89
3 1/2"
8 × 13
5 × 12
2
2
5.2
T45-8913YFP
102
4"
9 × 12
6 × 12
-
3
6.5
T45-10215YFP
115
4 1/2"
9 × 14
7 × 13
-
3
10
T45-11516YFP
115
4 1/2"
9 × 14
6 × 13
-
3
10
T45-11515YFP


















76
3"
8 × 11
4 × 11, 1 × 11
-
4
3.2
T45-7613YFA
89
3 1/2"
8 × 12
4 × 12, 2 × 10
1
4
5.4
T45-8914YFA
102
4"
8 × 12
4 × 12, 3 × 12
-
4
7.8
T45-10215YFA
102
4"
8 × 13
4 × 12, 4 × 12
-
4
7.8
T45-10216YFA
115
4 1/2"
8 × 14
4 × 13, 3 × 12
-
4
7.8
T45-11515YFA


















76
3"
8 × 13
4 × 11, 1 × 11
1
4
3.5
T45-7613YLA
89
3 1/2"
8 × 12
4 × 12, 1 × 12
1
4
4.7
T45-8913YLA
Appearance
Diameter
Buttons
Flushing Hole
Weight
Model No.



[mm]

[in]
Gauge
[No.] × [mm]
Front
[No.] × [mm]
Side
[No.]
Front
[No.]

[kg]


89
3 1/2"
8 × 12
4 × 12, 2 × 10
1
4
5.3
T51-8914YLA
89
3 1/2"
8 × 12
4 × 11, 1 × 11
1
4
5.3
T51-8913YFA


















89
3 1/2"
8 × 13
5 × 12
2
2
4.6
T51-8913YFP
102
4"
8 × 14
7 × 12
1
2
7.1
T51-10215YFP
102
4"
9 × 12
6 × 12
-
3
7.1
T51-10215YFP
115
4 1/2"
9 × 14
7 × 13
-
3
10
T51-11516YFP
115
4 1/2"
9 × 14
6 × 13
-
3
10
T51-11515YFP
127
5"
9 × 14
7 × 13
-
3
13
T51-12716YFP


















89
3 1/2"
8 × 12
4 × 12, 2 × 10
1
4
5.4
T51-8914YFA
102
4"
8 × 12
4 × 12, 3 × 12
-
4
7.8
T51-10215YFA
102
4"
8 × 13
4 × 12, 4 × 12
-
4
7.8
T51-10216YFA
115
4 1/2"
8 × 14
4 × 13, 3 × 12
-
4
7.8
T51-11515YFA
115
4 1/2"
8 × 14
4 × 14, 3 × 12
-
4
7.8
T51-11515YFA
115
4 1/2"
8 × 14
4 × 14, 4 × 12
-
4
10
T51-11516YFA


















89
3 1/2"
9 × 11
3 × 11, 2 × 10
1
3
4.8
T51-8914YFA
102
4"
9 × 12
3 × 12, 3 × 11
1
3
6.9
T51-10215YFA
110
4 21/64″
9 × 14
6 × 12, 2 × 11
-
3
10
T51-11017YFA
127
5"
8 × 16
4 × 14, 4 × 14
-
4
13.5
T51-12716YFA


















102
4"
8 × 14
4 × 13, 1 × 13
-
2
10.1
T51-10213YLA
115
4 1/2"
9 × 14
6 × 12, 4 × 12
-
3
9.45
T51-11519YLA
Appearance
Diameter
Buttons
Flushing Hole
Weight
Model No.



[mm]

[in]
Gauge
[No.] × [mm]
Front
[No.] × [mm]
Side
[No.]
Front
[No.]

[kg]


92
3 5/8″
9 × 12
9 × 12
-
2
5.1
GT60-9218YFP
96
3 25/32″
9 × 12
9 × 12
-
2
6.5
GT60-9618YFP
102
4"
9 × 13
10 × 12
-
2
8.5
GT60-10219YFP


















115
4 1/2"
9 × 14
10 × 12
-
3
10.8
GT60-11519YFP
127
5"
9 × 16
10 × 14
-
3
15
GT60-12719YFP
140
5 1/2"
9 × 16
10 × 14
-
3
15
GT60-14019YFP
152
6"
9 × 16
12 × 16
-
3
20
GT60-15221YFP


















115
4 1/2"
9 × 16
6 × 13
-
3
15
GT60-11515YFP
Appearance
Diameter
Buttons
Flushing Hole
Weight
Model No.



[mm]

[in]
Gauge
[No.] × [mm]
Front
[No.] × [mm]
Side
[No.]
Front
[No.]

[kg]


89
3 1/2"
10 × 12
4 × 12, 2 × 12
-
4
5
ST58-8916YFA
115
4 1/2"
10 × 14
4 × 14, 4 × 14
-
4
10
ST58-11518YFA
Appearance
Diameter
Buttons
Flushing Hole
Weight
Model No.



[mm]

[in]
Gauge
[No.] × [mm]
Front
[No.] × [mm]
Side
[No.]
Front
[No.]

[kg]


102
4"
10 × 12
4 × 12, 4 × 12
-
4
9.3
ST68-10218YFA
115
4 1/2"
10 × 14
4 × 14, 4 × 14
-
4
10
ST68-11518YFA


Can't find the Retrac Button Bit you want? Please contact us! →
Litian Retrac Button Bit Features
Litian retrac button bits are made of high-quality steel and cemented carbide as raw materials, so they have a long service life. And the use of retrac bits minimize the loss of impact energy during transmission. In addition, the advanced button fixing technology makes the fixing force uniform and not easy to loose buttons. Meanwhile, the use of retract drill bits also ensures the perpendicularity of the borehole, so that the impact energy is concentrated on the rock and the drilling efficiency is improved.
Retrac Button Bit Application
No matter it is mining, rock drilling, or tunneling and blasting, Litian retract bits are suitable for all these situations.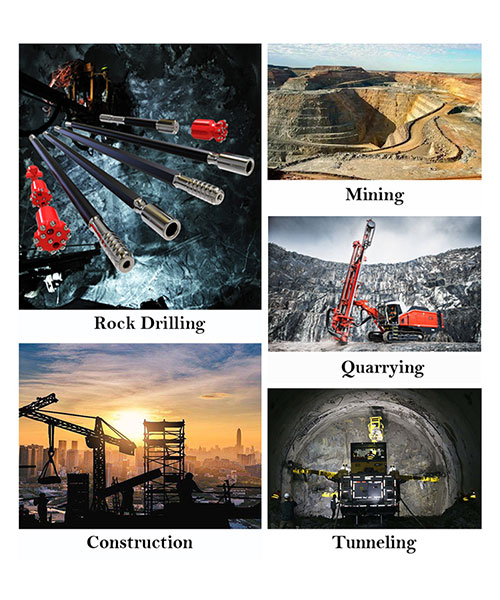 Retrac Rock Drill Bits Design