TBM Cutters Overview
TBM Cutters

Material

Mold Steel + Tungsten carbide

Application

City subway tunnels, Diversion tunnels, Railway tunnels, Cable tunnels, etc.

Applicable Equipment

Tunnel boring machine, Shield machine, Pipe jacking machine, etc.

Applicable Brand

Herrenknecht, Wirth, Dcmag, Robbins, Jarva, Kawasaki, Mitsubishi, IHI, Komatsu, Lovat, STEC, CRCHI, CREG, etc

OEM & ODM

Acceptable
TBM Disc Cutters

Other Names

TBM bits, TCI disc cutters, TBM disc roller cutters, TBM roller cutters, MTBM disc cutters

Cutter Type

Single disc cutter, Double disc cutter, Triple disc cutter, Twin disc cutter, Triplet disc cutter

Cutter Type (by position)

Face cutter, Gauge cutter, Center disc cutter

Cutter Structure

Assembly / Monoblock

Size

6" ~ 20" (150mm ~ 508mm)
Soft Ground Cutter

Cutter Type

Scrapers, Cutting knives, Buckets, Rippers, etc.

Size

As required
TBM Cutter Head Design
A closer look at the Litian disc cutter and soft ground cutter on TBM cutter head design for tunnel boring machines.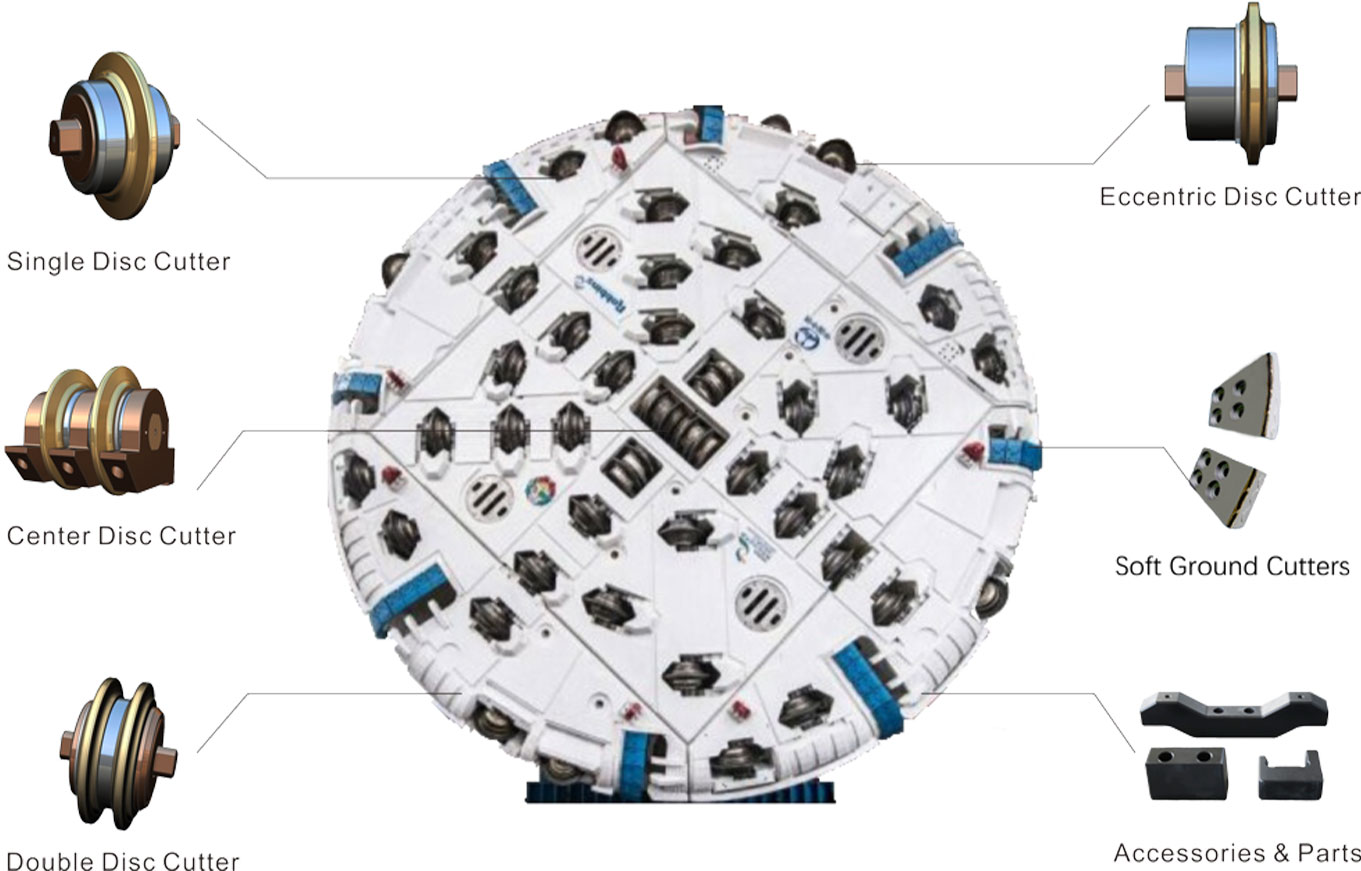 Litian: Your TBM Excavation Expert
Litian can provide TBM cutters and shield cutters suitable for various tunnel excavations and underground works. We can provide optimal configurations of TBM cutters according to different geological characteristics, allowing users to achieve a better balance between cost and efficiency. As a professional rock drill bits factory, we have a complete technical team of TBM boring machine cutter developing, design, manufacturing, assembly, debugging, maintenance and renovation, and be able to provide equipment selection consulting, independent design, development, manufacturing and professional after-sales service. Our testing and manufacturing level for TBM cutting tools has been among the world's advanced ranks.
Product Superiority
Litian is committed to reducing customer procurement and operating costs, and helping customers improve tunnel boring machine tunneling efficiency. Litian tunnel boring machine cutter is cost-effective, which can reduce the number of cutter changes and increase the effective tunneling time under the same working conditions. The cutter price is about 30% lower than that of foreign equivalent products, and the life is similar to that of foreign first-class manufacturers, and even exceeds.

Litian attaches great importance to the combination of R&D and field testing, and continuously optimizes the TBM cutter design to improve its efficiency in cutting rocks. We have successively obtained 16 national patents.

Litian has a professional team of application experts, which can design and adjust the specification parameters of cutting tools as well as TBM spare parts according to different machines and different rock working conditions, so as to best adapt to the customer's on-site construction requirements, and to select the most suitable cutters for the customer's work conditional.

Litian has an experienced after-sales team that can provide cutter assembly, debugging, testing, replacement, maintenance, training and other services, as well as a full range of accessory TBM spare parts, and on-site cutter maintenance workshop.

Litian has the ability and experience to provide customers with a full range of services in the way of excavation quantity contracting. While helping users to significantly reduce the comprehensive tunneling cost, it also significantly improves the tunneling efficiency and escorts users for TBM tunneling.
Strive To Be Your First Choice
Litian has successively provided TBM cutters and services for various TBM equipment at home and abroad, such as CRCHI and CSSC from China, Herrenknecht and Wirth from Germany, Robbins from the United States, Lovat from Canada, Kawasaki and Hitachi from Japan, etc. Over the years, Litian has accumulated rich experience in design, manufacturing, application, maintenance, and service.
Litian TBM cutters are being widely recognized by more and more users, and have become the first choice for many customers to deal with hard rock and complex rock excavation.