Litian Escorts The Tbm Excavation Of The Major Water Diversion Tunnel
A diversion tunnel project in Liaoning is a national key water delivery project.
Litian defeated many domestic and foreign TBM cutters suppliers in one fell swoop, and won the arduous task of escorting the entire TBM tunneling process of China Railway 18th Bureau by means of tunneling volume and service contracting.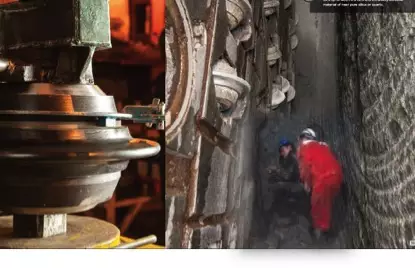 The geological conditions of the project section are very complicated, including granite, red sandstone, limestone, marble, quartz and other surrounding rock types. The rock hardness can be divided into I, II, III, III A, III B, IV grade, and various complex rock formation conditions. In addition, it is also faced with various sudden and difficult situations such as large-scale water seepage in the cave wall, severe vibration of the cutter head, and serious damage to the TBM cutters caused by difficult rock formations.
Litian on-site team and the rear R&D team conducted in-depth research on the failure failures such as chipping, high temperature and uneven wear that occurred during the hard granite tunneling, and made the TBM cutters improvement plan at the fastest speed. At the same time, the disc cutter configuration and tool difference were adjusted, and the problem was solved quickly, so that the extremely hard granite strata could be excavated smoothly.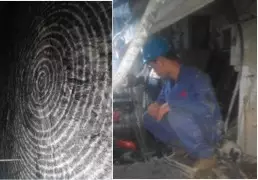 Litian product application experts and service specialists follow the tunnel boring machine to stay at the forefront of tunneling, and provide advice and guidance at any time. They provided professional experience and operation processing in all aspects of TBM parameter adjustment, equipment and cutter problem handling, cutter adjustment and replacement, etc., which minimizes the time spent for cutter replacement and deployment, and provided a lot of support and training, and contributed their talents and strength to achieve safe and rapid excavation.
For the problems other than the cutters that affect the speed and efficiency of driving, such as the problems of the cutter head, the cutter seat and the cutter tooth seat, the water spray system, etc., Litian on-site team actively contributes suggestions, timely handles and solves the problems, to ensure the smooth tunneling of TBM equipment.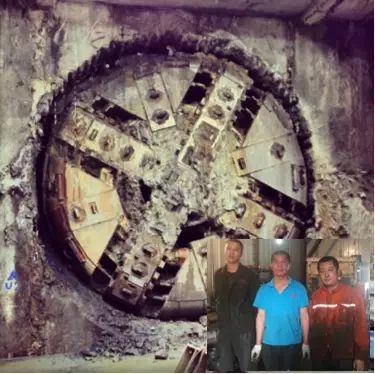 The TBM project division has overcome various extremely complicated geological and rock conditions during the construction process, continuously improving the equipment utilization rate, and has successively created multiple excavation records.
The excavation length of the TBM-2 section is 3271 meters, and the geological conditions in this section are poor, with a total of 1,000 meters of granite. With the concerted efforts of Litian Heavy Industries' TBM tool and service team, the TBM branch of China Railway 18th Bureau had a monthly progress of 823 meters in April 2015, 822 meters of tunneling in May, and a hard rock granite layer in June, with a hardness of 130-150mpa. All sections have been completed ahead of schedule and achieved another success!